We're here for the under-supported LGBT+ communities in and around our borough of Tameside; which is 8 miles north-east of Manchester city centre. Our office are based at 3B Market Ave. in Ashton town centre (Previously at the Anthony Seddon Centre for whom we're eternally grateful for the space, resources, and support)
We filed our charity application in March 2019 and received it in December and will provide a range of services from trans-safe spaces, BAME and over-50s sessions, sexual health clinics and much, much more, as well as our current groups.
Future Programmes
We aim to launch these programmes and services when we begin our full roll-out.
Youth LGBT+
Faith and sexuality support
BAME +
over-50's support
Safe sex advice
---
Groups
As well as providing one-to-one support, we also organise group peer support sessions to share experiences and to have a general natter/get together. 
Our Tameside Safe Space did meet weekly at the Anthony Seddon Centre, unfortunately due to Covid-19 we currently can't meet in person, however we are meeting weekly online on a Wednesdays at 5pm until 7pm.
If you would like to take part with us email : [email protected]
Or Call 0333 112 7437
Aries UK offer 1-2-1 Peer Support Sessions available 1 hr (session online only at this current time)
For more information Email [email protected] or Call 0333 112 7437
A Trans Safe Space Group each Tuesday 4-6pm on zoom from the 2nd feb 2021
For more information
Email [email protected] or Call 0333 112 7437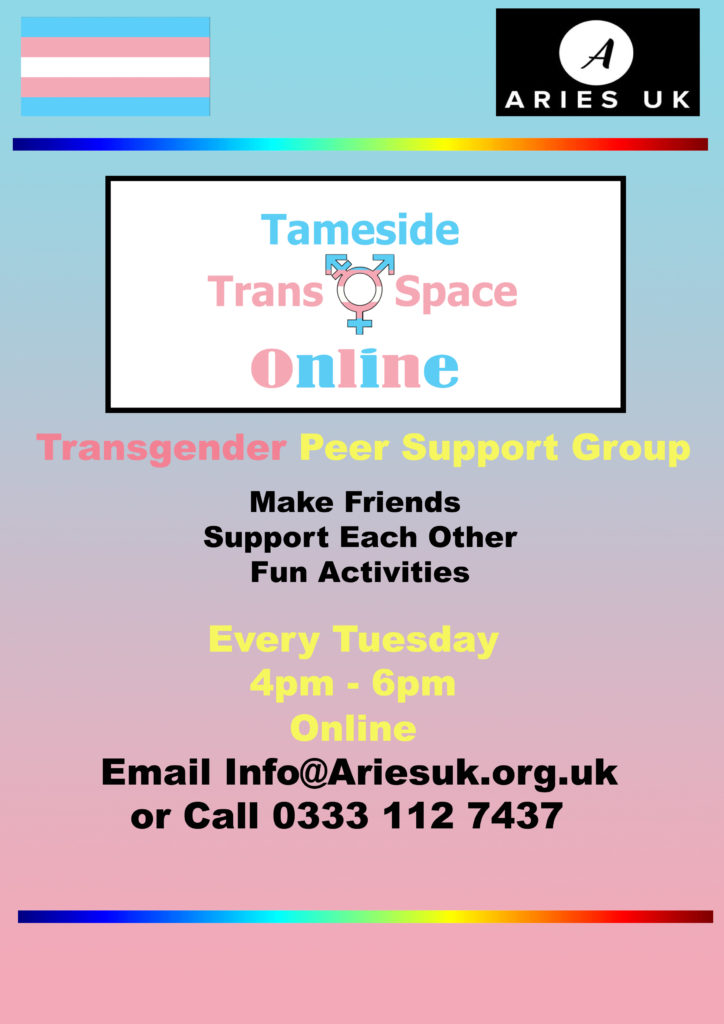 Saturday Chat Drop in 11am-1pm, from the 30th January
For more information Email [email protected] or Call 0333 112 7437